Talking Bhagavad Gita Book In 15 Languages – Signature Edition
Regular price
Rs. 9,737.29
Regular price
Rs. 13,550.85
Sale price
Rs. 9,737.29
Unit price
per
Sale
Sold out
The World's First Illustrated Speaking Book in 15 Languages with Guided Meditation by Gurudev Sri Sri Ravi Shankar. Beautifully Crafted and Packed in a Beautiful Printed Silk Pouch, Hard Bound, Aquas Coating, Golden Glittering, and Golden Edges.
Highlights
Total 15 Languages
Printed Language 3 Sanskrit, English & Hindi
108 Krishna Bhajan
18 Meditation
15 Life Lessons
180 Illustration
Aarti - 4
Word By Word Meaning of each chapter and each Versa.
Braille ( For Blind People).
Multisensory Device with Aux. Port.
Multilingual also.
Multi-Sensory Technology: Now Learn at your convenience and pace. Talking Bhagavad Gita uses a multi-sensory Book and Reader that has a unique combination of TOUCH–SOUND–VISUAL technology. Each touch to the pages triggers audio responses that engage the reader for a longer time and enable independent learning.

Interactive Art Illustration: Over 180 original illustrations with built-in interactivity.

The Premium Gift Box: Premium gift box containing Gita, Wisdom flute, Charger. This is attractively designed and can be gifted on any occasion.

We have the Original Sanskrit Version + 14 Languages is there.
Translation: The Translation of all 700 Verses of Gita in 15 Languages:  Gita Book in Sanskrit /Gita Book in English /Gita Book in Hindi /Gita Book in Nepali /Gita Book in Assamese /Gita Book in Tamil / Gita Book in Telugu /Gita Book in Kannada /Gita Book in Gujarati /Gita Book in Marathi /Gita Book in Bengali /Gita Book in Odiya /Gita Book in Punjabi /Gita Book in French /Gita Book in Spanish. 

Explanation: Detailed Explanation of each verse in today's context in Hindi and English.

Word by Word Meaning: Correct Pronunciation of each word in Sanskrit and Its meaning in Hindi

108 Krishna Bhajans: Bhajans on Krishna Six in Each

18 Meditations: Guided Meditation by Gurudev Sri Sri Ravi Shankar helps you to calm the mind and bring solace to yourself. One meditation in each chapter

Recitation of Shlokas in Hindi and Sanskrit

Learn Chanting and Record and Compare Pronunciation
It will Best Gift to Anybody,
A gift to yourself and your Family, Children, Husband, Wife, and Special Gift For your Parents.
Give this on Wedding Anniversary.
Give this to mark a happy occasion and plant a tree on all the above occasions.
The Bhagavad Gita book is a 700 verse Sanskrit scripture that is a part of the Hindu epic, Mahabharata. It is the discourse that takes place between Lord Krishna and Arjun before the start of the Kurukshetra war. The teachings by Lord Krishna helped in changing Arjun's perspective about life and his understanding of life. We present to you 'Talking Bhagavad Gita' which helps you understand this mysterious book in a fun, interactive manner. The 'Talking Bhagavad Gita Book'  uses a multisensory book and reader that has a unique combination of TOUCH-SOUND-VISUAL technology. Every touch to the page triggers an audio response which keeps the user engaged throughout. The package also contains the Wisdom Flute which has an inbuilt speaker and also plays aartis in various languages. By buying this product you also get free content and language update for 1 year and also a free subscription to the Gita Wisdom Pack. The box contains Bhagavad Gita Book, the Wisdom Flute, and a charger for the devices. This is also a perfect gift for an auspicious occasion.
Buy from Rgyanshop.com
Shipping & Returns

Return Policy

Our return policy lasts for 3 days from the date of delivery.
Item must be unused & packed in original packing.
Item will be inspected before processing the refund.
To request a return, please e-mail us at support@rgyan.com

Shipping

Orders are delivered across India in 3 -10 working days.
Shipping is free on paid orders above ₹310/-
Care Instructions

Wipe it clean with soft & dry cloth
1) Shelve Your Books Properly.
2) Avoid Humidity.
3) Direct Sunlight is a No-No.
4) Practice Regular Cleaning.
Share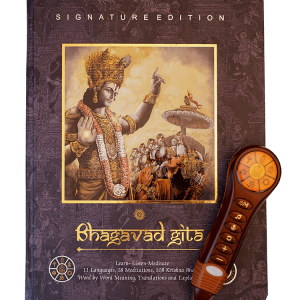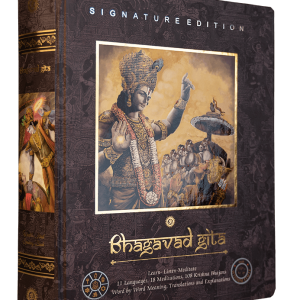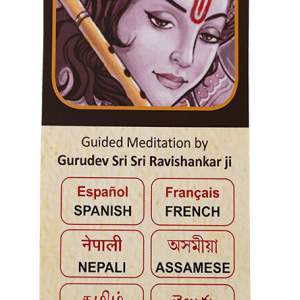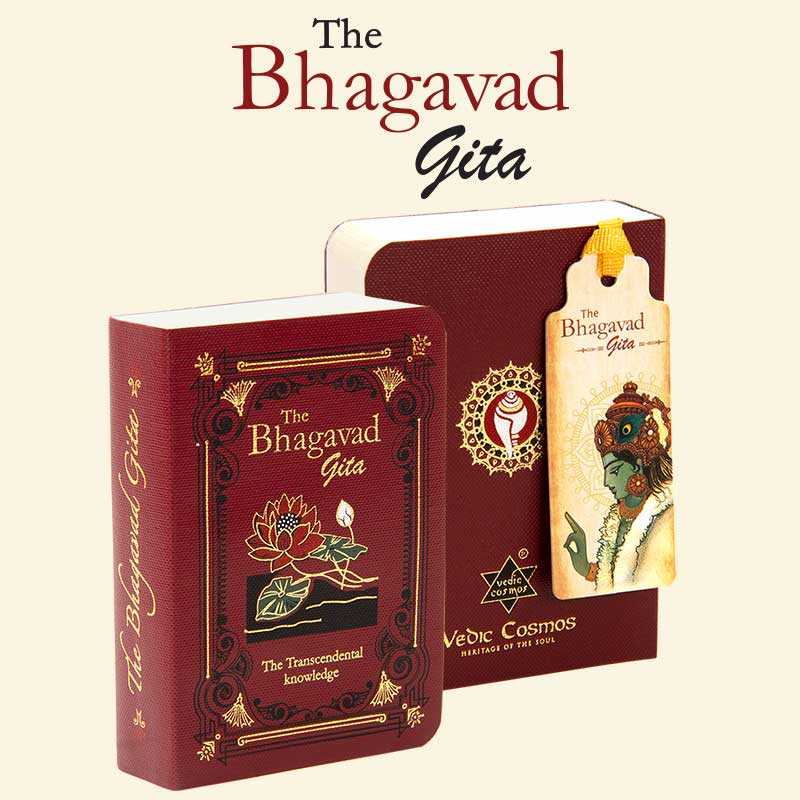 The Bhagwad Gita
Explore "The Bhagwad Gita" which has been crafted beautifully with one of the most premium cloth-based cover materials for achieving maximum endurance. Also, It has been embellished with beautiful gold foil work on the covers and spine.
This flexible and lay-flat edition contains the original Sanskrit verses with their transliteration and translation in English alone.
The book comes with a cute little bookmark featuringLord Krishna. Thus it feels like Lord Krishna is traveling with us while reading this book.
Buy Now
SundarKand

This precious edition of the Sundarakanda is crafted with the most premium cloth cover. The cloth cover is imprinted with exquisite illustrations and decorated with artistic foiling and embossing. Thus making it a beautiful antique piece of art.

This pocket edition consists of the English and Hindi translations of the entire Sundara-kāṇḍa which are presented as 12 chapters in a story-telling format. It also consists of an invocation hymn to Lord Hanuman. 

Buy Now

Hanuman Chalisa

This Precious Edition Of The Hanuman Chalisa Is Crafted With The Most Premium Cloth Cover. The Cloth Cover Is Imprinted With Exquisite Illustrations And Decorated With Artistic Foiling And Embossing. Thus Making It A Beautiful Antique Piece Of Art.

With beautiful illustrations, this edition of the famous hymn features the Chalisa in its original Awadhi language. Also, it comes along with its transliteration in English and translation in both English and Hindi.

Buy Now